About
Elizabeth Mueller Grace, NCTM, enjoys a multi-faceted career as performer, teacher, clinician and adjudicator. An award-winning pianist, her performances have been praised for their "depth of sound, intelligent interpretation and fluid technique." (Omaha World Herald)
A frequent collaborator, Ms. Grace was selected to perform at the National Flute Conference in Chicago, with Barbara Leibundguth, former co-principal flutist in the Minnesota Orchestra. As the Capriole Duo, they toured the Midwest under the auspices of the Nebraska Arts Council. She has appeared with the Ives Quartet on the Chamber Music Tulsa Series, and has performed in ensembles nationwide, including the University of Texas, Austin, Drake University, Des Moines, Iowa and the Lawrence Conservatory of Music, Appleton, Wisconsin, among others. Ms. Grace regularly concertizes with Dr. Janet Fetterman in duo-piano and four-hand collaborations. The duo was featured as the  Conference Artists for the Missouri Federation State Convention.
Ms. Grace was selected as a 2016 Steinway and Sons Top Teacher and was the winner of the 2014 Kansas Outstanding Teacher of the Year.  She has taught at Rice University, Houston, Texas and Creighton University in Omaha, Nebraska.  She is a Certified Associate of the Taubman Approach through the Golandsky Institute, New York City, and has been involved with the Taubman Approach since 1986.  She regularly coaches with Edna Golandsky and John Bloomfield, New York City. Ms. Grace has taught many award-winning pre-college students and also has extensive experience teaching the principles of injury prevention and recovery. Her work with injured musicians is described in Preventing and Resolving Piano Injury and is featured on MajoringinMusic.com and MTNA.org.
She attracts students seeking additional training because of injury or technical limitations to her studios in New York City and in the Kansas City area.   A nationally certified member of the Music Teachers National Association, Ms. Grace has worked with pianists from the United States, South America and Europe.
The recipient of numerous prizes and awards, Ms. Grace served as Keyboardist in the Houston Symphony, Topeka Symphony and as Principal Keyboardist in the Omaha Symphony. For fifteen years, she was a member of the performing artist faculty of Rocky Ridge Music Center in Estes Park, Colorado and served as the Center's Music Director for eight years.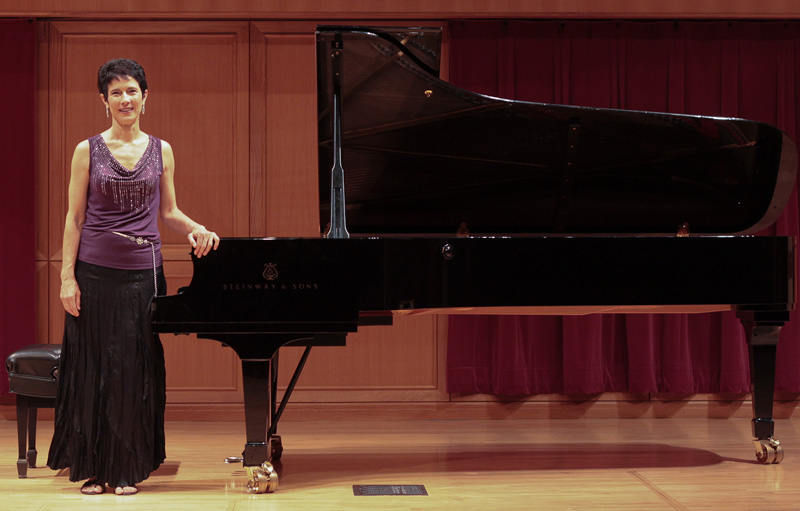 Ms. Grace graduated summa cum laude with a Master of Music degree from the Eastman School of Music and holds a Bachelor of Music degree from Nebraska Wesleyan University.  She was the first recipient of the Phi Kappa Phi Honor Society Fellowship Award given for advanced musical study.